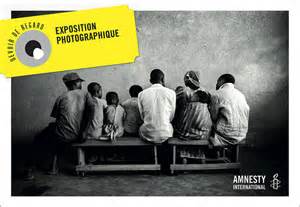 For several months, Amnesty International have been visiting a series of French-speaking cities of Belgium "because opening eyes is already acting." In this context, Amnesty tours "Devoir de Regard", which will be finished in Verviers, from 8 to 21 November 2014, at the initiative of CAP, a regional section in Verviers, which collaborates on this occasion with the CTLM, the host place of the photography exhibition.
The objectives of the exhibition:
To publicise the work of Amnesty, particularly on the following topics: freedom of expression, rights of children, child soldiers
To consider the role of photography in this work
To serve as evidence and memory
Group visits are usefully prepared by a prior visit, by the consultation of educational materials (to order at jeunes@aifb.be) and the reports of Amnesty (available on Amnesty.be).
Register at CTLM to have a guided tour of the exhibition, taking place from Monday to Friday, from 10/11 to 11/21/2014, at 9am, 10:30 am, 1:30 p.m. and on Saturday 9 / 11 and 16/11 at 10:30..