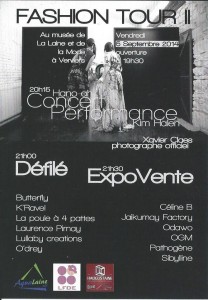 New in Wallonia : the concept « Fashion Tour Belgium »!
Fashion and Art combined for unique moments !
A fashion show, a meeting with the designers participating to the event, Belgian designer boutiques, a concert, an exhibition, a performance, all in one evening in order to promote young artistic talents!
Presence and participation of various artists: Butterfly, K'Ravel, La poule à 4 pattes, Laurence Pirnay, Lullaby creations, O'drey, Céline B, Jaikumay Factory, Odawo, OGM, Pathogène, Sibylline
7.30 pm: opening of doors
8.15 pm: Concert of Hano-ah and performance by Kim Lozic Halén
9 pm: fashion show
9.30 pm: ExpoVente
Contact by email: fashiontour@outlook.com
or by phone: Audrey Gérard: 0474 75 29 68.